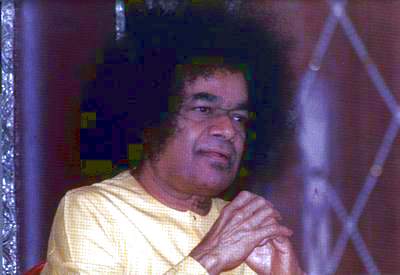 ---
Glimpses Of Sri Rama Navami Celebrations At Brindavan - 2000
"Sai Ramesh Hall (at Brindavan), the venue of the celebration, was decorated tastefully, and the stage was particularly looking beautiful with fascinating flower designs. Beautiful cut-out of scenes from the life of Lord Rama reflected the significance of the auspicious day. One of the main teachings of Lord Rama, namely, 'Mother and Motherland are Greater than Heaven,' was highlighted in a banner put up at the top of the central Mandap of the Hall.
Bhagavan Baba came to the Sai Ramesh Hall at 7.30 a.m. in a procession led by Veda chanting students. Unlike other festival days, Bhagavan in His infinite mercy gave bliss of His Darshan to the devotees by going in the rows of devotees while Bhajan singing continued. The morning session came to a conclusion with Aarti to Bhagavan and distribution ofPrasadam.
In the afternoon, Bhagavan came to Sai Ramesh Hall at 3.40 p.m. led by the Veda chanting students and Nadaswaram troupe. For a few minutes, Bhagavan listened to the Bhajans and then signalled the commencement of the programme. The programme started with Veda chanting by Institute students. Before the Divine Discourse of Bhagavan, two speakers made brief speeches. They were introduced to the audience by Sri B.N. Narasimha Murthy, Warden, Brindavan Campus.
Sri Arvin, a senior student of the Institute, was the first speaker of the afternoon. Taking a cue from the large cut-outs depicting 'Ramo Vigrahavan Dharma' and 'Sai Ramo Vigrahavan Prema', the speaker explained the virtues of the two Avatars. He also spoke about the symbolism of the Ramayana and pointed out the inner significance of this great epic.
The second speaker, Sri Ruchir Desai. a faculty member of the Brindavan campus, narrated the dream of a devotee of Thyagaraja in which the great saint instructed him to go to Venkatagiri to have the Darshan of the Lord on a particular day. Bhagavan Baba granted fulfillment to the devotee when He visited Venkatagiri on the day indicated in his dream and gave him the Divine Bliss of His Darshan. After these brief speeches, Bhagavan blessed the devotees with His nectarine discourse. The grand function of Sri Rama Navami (on 12 April 2000) came to a close after Aarati to Bhagavan." Editor. SS, 5/2000. pp. 157 & 158
---